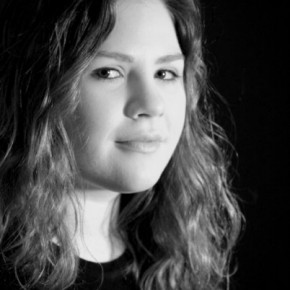 Mandy is a twenty-four-year-old singer from Chicago, Illi­nois. In 2004, she grad­u­ated with a con­cen­tra­tion in Musi­cal The­atre from the pres­ti­gious Chicago Acad­emy for the Arts (CAFTA), the only pri­vate per­form­ing and cre­ative arts high school in the state of Illi­nois. In 2008, she grad­u­ated from Birmingham-Southern Col­lege (BSC) with a Bach­e­lor of Arts in Musi­cal The­atre, the only stu­dent in the Musi­cal The­atre major to grad­u­ate that year. While at BSC, Mandy was also a mem­ber of the Zeta Tau Alpha Fra­ter­nity and a mem­ber of Alpha Psi Omega, the National The­atre Honor Society.Mandy has been singing since she was a child, and in addi­tion to her exten­sive for­mal train­ing as a vocal­ist, she has thir­teen years of for­mal train­ing on the piano. While she can adapt her voice to any event or occa­sion, her vocal spe­cial­ties include musi­cal the­atre, show tunes, jazz, oldies, and rock 'n' roll. She has recorded four inde­pen­dent cd's and has pro­duced five of her own ben­e­fit con­certs for var­i­ous char­i­ta­ble orga­ni­za­tions. In addi­tion to these con­certs, she has per­formed at a num­ber of other char­ity events and has played major roles in numer­ous pro­duc­tions includ­ing the roles of Fan­tine in Les Mis­er­ables, Marta in Com­pany, and Alice in Alice in Won­der­land. She has also per­formed in such pro­duc­tions as Jesus Christ Super­star, The Tam­ing of the Shrew, Our Town, Mer­rily We Roll Along, Urine­town,and a num­ber of choral per­for­mances. Dur­ing her time at BSC, she was also a mem­ber of the orig­i­nal cast of Mar­ley: Being a Ghost Story of Christmas.
Her behind-the-scenes expe­ri­ence is also exten­sive. In addi­tion to pro­duc­ing five of her own char­ity ben­e­fits, Mandy has worked back­stage as the Makeup Designer for Our Town, as the Assis­tant Stage Man­ager for Doll­house by Rebecca Gilman, and as the Props Crew Head and the Light Board Oper­a­tor for As You Like It. She directed a children's choir dur­ing high school and has had var­i­ous other back­stage roles in a num­ber of other pro­duc­tions includ­ing Into the Woods, Agnes of God, and Pip­pin.
She is cur­rently teach­ing pri­vate piano lessons and singing for wed­dings, funer­als, and other events while also pur­su­ing new ways in which she can com­bine her pas­sion for singing with her pas­sion for char­ity.  In her spare time, Mandy enjoys read­ing the works of Wally Lamb, Stephen King, and Mark Z. Danielewski as well as writ­ing her own short sto­ries and watch­ing movies, some­times for enter­tain­ment but often for crit­i­cal analy­sis. She loves roses and vin­tage themes, gets her inspi­ra­tion from Bernadette Peters, and enjoys lis­ten­ing to the old-time radio show Sus­pense! She is recently mar­ried and cur­rently resides in the south sub­urbs of Chicago with her hus­band and their cat.
Mandy can be con­tacted at mandyb1986@gmail.com