The global fail­ure of tuber­cu­lo­sis (TB) pro­grams has reared its head again, and the recent strain of totally drug resis­tant TB (TDR-TB) has assuredly caught the atten­tion of every TB offi­cial around the globe. Instan­ta­neously the mur­murs of 'what are the global impli­ca­tions,' and 'what do we do' have arisen like gos­sip in a grade school play­ground.  It has stricken fear into the hearts of men, and threat­ens to ter­ror­ize global pub­lic health sys­tems. Soon, it would seem, we will be poised for a bio­log­i­cal mas­sacre of poverty-stricken populations.
But this has been hap­pen­ing for decades.
In our deranged world of rel­a­tive impor­tance, where head­lines and catchy names tran­scend basic pub­lic health neces­si­ties, it is not ter­ri­bly sur­pris­ing that we for­get about uncom­pli­cated, drug-susceptible TB. This acronym-less killer is respon­si­ble for more deaths on the African con­ti­nent than any other nat­ural dis­ease, yet is allowed to run ram­pant through­out poor and for­got­ten com­mu­ni­ties. The result of this neg­li­gence is hun­dreds of thou­sands of deaths each year, but they are hid­den in shan­ty­towns and remote vil­lages of the world's poor­est coun­tries. Com­mu­ni­ties that we con­tinue to turn our backs on.
It's not that we can't cure TB, it's that we can't cure TB for poor people.
"We live in a fab­ri­cated world where Band-Aid reme­dies allow the poverty-stricken patients to be out of sight and out of mind. Then when it arises, we carry out our half-hearted attempts to man­age drug resis­tance in TB with baf­fling stupidity."
Total resis­tance to TB has been present for decades, but instead of patho­log­i­cal resis­tance the cul­prits are apa­thetic gov­ern­ments, bro­ken promises, pal­try sup­port for R&D, and non-functioning infra­struc­tures that elude account­abil­ity. We have seen the resistant-TB hys­te­ria before: first with the emer­gence of multi-drug resis­tant TB (MDR-TB), and again with exten­sively drug resis­tant TB (XDR-TB). Yet some­how, despite know­ing the exact cause in resis­tance eti­ol­ogy, we man­age to con­tinue under­fund­ing essen­tial pro­grams. We dilute account­abil­ity. We cut off inter­na­tional aid. We mir­ror the same inep­ti­tudes that cre­ated these drug resis­tant demons. Inad­e­quate diag­nos­tic capa­bil­ity allows the unre­stricted spread of dis­ease, lack of capac­ity forces clin­ics to strug­gle with patient load and drug secu­rity, crit­i­cal sup­port is ignored, and polit­i­cal indif­fer­ence allows all of this to con­tinue with no accountability.
TDR-TD rein­forces my claim that tuber­cu­lo­sis man­age­ment should be deemed the largest vio­la­tion of human rights the global health com­mu­nity has ever seen. We live in a fab­ri­cated world where Band-Aid reme­dies allow the poverty-stricken patients to be out of sight and out of mind. Then when it arises, we carry out our half-hearted attempts to man­age drug resis­tance in TB with baf­fling stu­pid­ity. Quar­an­tine poli­cies plagued by lim­ited bed space means that the vast major­ity of patients remain in the com­mu­nity highly infec­tious. Forc­ing patients to trek to cen­tral­ized clin­ics cre­ates an insur­mount­able logis­ti­cal and finan­cial bar­rier and local­izes the spe­cial­ized clin­i­cians that should be in the com­mu­nity. Diag­nos­tic sys­tems remain a dis­as­ter. Qual­ity of treat­ment remains a dis­as­ter. Drug sup­ply secu­rity remains a dis­as­ter. Resource allo­ca­tion remains a dis­as­ter. Man­age­ment of TB remains a tragedy.
This is not to under­mine the fact that novel efforts to address exist­ing TDR-, XDR-, and MDR-TB cases are para­mount to con­tain­ing these epi­demics – this impor­tance can­not be over­stated. Nor can the impor­tance of research and sup­port for new vac­cines and bet­ter drugs, which need des­per­ate fund­ing and scale up. But today, on the ground, the only solu­tion lies in basic pub­lic health. Left gut­ted, unfunded, and under­staffed, TB infra­struc­tures that remain sub­stan­dard con­tinue to allow count­less deaths while hem­or­rhag­ing cases of drug resis­tance into the sur­viv­ing pop­u­la­tion. Trial after trial, human rights based, patient-centered approaches to TB care have been shown to have tremen­dously pos­i­tive results. Yet these suc­cess­ful pro­grams, such as MSF's work in Khayelit­sha, South Africa, remain inun­dated with excuses from decision-makers as to why they can­not be replicated.
Given our wealth of tech­nol­ogy, it is embar­rass­ing that a cur­able, treat­able dis­ease has become the largest threat to pub­lic health sys­tems in our life­time. We allow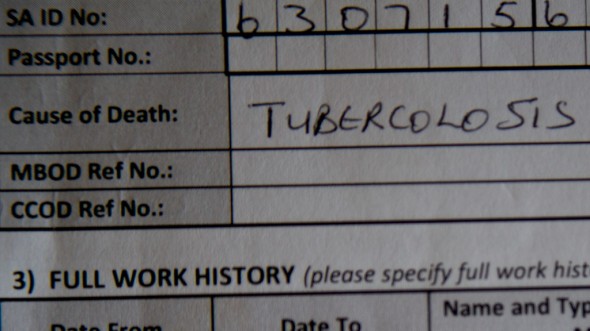 our rhetoric and poli­cies to fail with no repen­tance, remain­ing in a piti­ful cycle with no signs of change. We fail to rec­og­nize that TB has tran­scended merely a med­ical dis­ease and is one of poverty that must be addressed appro­pri­ately, includ­ing full incor­po­ra­tion of human rights. And every few years when a new resis­tant strain 'sur­prises' us, we pre­tend that we sum­mon enough momen­tum for change, but in real­ity, we make the same mis­takes with mind-blowing irrationality.
TDR-TB calls for novel strate­gies to stem this and other resis­tant strains, but should high­light how basic pub­lic health infra­struc­ture could pre­vent resis­tance in the future. As exoge­nous pri­mary infec­tion of drug resis­tant TB rises, the world can­not afford to bicker in polit­i­cal offices. Lets put it bluntly: it will take more money, action, sup­port, and far less rhetoric. But with appro­pri­ately directed, patient-centered meth­ods, it can indeed be over­come. So lets get to work.